BOLLETTINO DELL'ARCHIVIO PER LA STORIA DEL MOVIMENTO SOCIALE CATTOLICO IN ITALIA - 2012 - 3
digital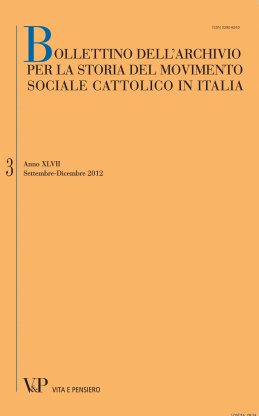 Ebook in formato Pdf leggibile su questi device:
Numero 3 di Bollettino dell'Archivio per la storia del movimento sociale cattolico in Italia
SOMMARIO
NOTE E DISCUSSIONI
Gli arcivescovi di Genova e il mondo del lavoro (1853-1987)
di Aldo Gorini
pagine: 23
€ 6,00
Abstract ∨
In this essay, the Author examines the approach of each Genoa Archbishops regarding the world of work in chronological order, from the mid-Nineteenth century until Cardinal Giuseppe Siri's episcopacy. On the whole, a continuous attention was given to the world of work, though with some differences between the various archbishops and regarding various circumstances. Several ministers produced significant teaching writings about labor; some left a profound mark thanks to their concrete commitment to workers. Time after time, individual archbishops were engaged on both theoretical and operative levels, especially in the case of Giuseppe Siri.
Materiali per una biografia di Igino Giordani
di Carla Pagliarulo
pagine: 25
€ 6,00
Abstract ∨
This note is a presentation of a large series of resources dedicated to Igini Giordani. The note begins with a wide biographical description on Giordani, which shows his commitment as a man of culture and his work in politics. Ample space is given to his spirituality and the role he played in the foundation of the "Focolare movement". A presentation of the documents held at the Giordani Archive follows. The note is completed by a bibliography of the studies dedicated to this important figure in Italian Catholicism; a list of the numerous degree theses dedicated to him is included.
NOTE BIBLIOGRAFICHE
La storiografia sull'azione sociale e politica dei cattolici italiani tra Otto e Novecento. Elenco di pubblicazioni edite in Italia nel 2009 a cura di CLAUDIO BESANA, MASSIMO CIOCCARELLI, NICOLA MARTINELLI e VANESSA POLLASTRO
Abstract ∨
After having gone through more than 130 reviews published in Italy and a number of specialized bibliographies, we list hereafter what has been published in 2009 about Italian Roman Catholics and about their presence in the cultural, economic, social and political fields. In their search, the authors didn't consider the high number of works on the history of the Church in Italy in the contemporary age, but they looked rather for the works which, by some means or other, may pertain to what has been defined the «Catholic movement». All the books and essays listed below deal with events from the unification of Italy to the 1970s. To the note is also added a series of indexes in order to facilitate the tracing of bibliographic data.
NOTIZIARIO
Relazione sull'attività svolta dall'Archivio nell'anno 2011
Indici dell'annata a cura di VESNA CUNJA
Consulta l'archivio
Ultimi 3 numeri
Annate disponibili online
Fascicoli anno
2012